Ayu, The Supernova of Asian Entertainment
July 10th, 2009
Ayu, The Supernova of Asian Entertainment
Written by:
miayu
Published on Tháng 7 10th, 2009 @ 11:29:55 , using 414 từ,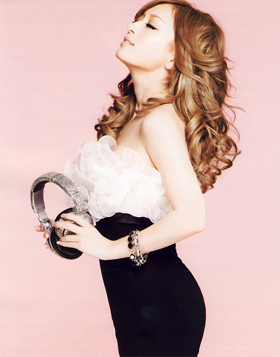 Source: Norsk Ayumi Hamasaki
Asian Media refers to Ayumi Hamasaki as "The Supernova Of Asian Entertainment". Reason for this is her absolute knockout against competitors in revenue so far in 2009. The information is taken from the news agent Sina and ent-163.
Continuing this trend, it is likely that Ayumi again scoop the place of most serving female artist in 2009, and the person with the highest income. If so, will she top this position for the third year in a row. Both in 2007 and 2008, she was voted the female artist in Japan with the highest income from the album and DVD sales. She also topped the list in 2000, 2001, 2002, 2003, and 2004. Only off Koda Kumi under the peak of her career in 2005 and 2006.
After the subsequent invasion of Asia in 2007, she was again crowned the "Highest grossing female artist of the year", a position it looks like she will make in 2009. Note that there are only Ayumi Hamasaki and Koda Kumi as solo artists on the list, the rest are either the band or duo's.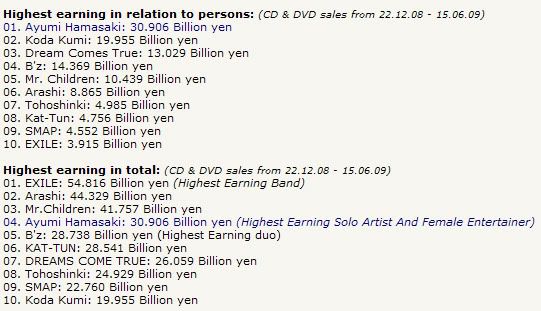 Tính ra USD thì sis kiếm được khoảng ~325 trệu USD. Tính ra tiền VND thì cứ nhân lên với 175 VND là …
Đây chỉ mới là tiền tổng kết của nửa năm đầu thôi, còn nửa năm sau nữa. Cứ trung bình 1 năm 30 tỷ, đi hát 10 năm… wow~
Khá nhiều fan thắc mắc là năm rồi, sis hoạt động không bằng những năm trước, chỉ có 2 single, 1 album, 2DVD concert, 1 photobook thì tại sao sis lại kiếm được nhiều như vậy? Mặc dù doanh số sale không cao bằng những người khác trong bảng xếp hạng, nhưng đồ của Ayu lại rất cao giá, vì thế tổng doanh thu của sis cũng vượt trội
Nói chứ thu nhập nhiều thế nhưng rơi vào túi Avex hết 60% rồi, Ayu chỉ được 40% thôi (10% for singing, 5% for writing lyrics, 10% for composing the songs, 10% for arranging and 5% for others) nhưng dù sao sis vẫn là "trùm" Avex
Well, congrats to your new record. I'm proud of you, Ayu-ane. You're always the empress of Japan
3 bình luận
Ayu is #1
Kuu is #2
zé zé \:D/
15-07-09 @ 04:37
^_^ Sis là trùm của Avex, còn Avex là trùm trong các labels. Suy ra sis Ayu là trùm của trùm :))
Koda thì sis ko là fan nhưng cũng mừng cho her ^^v
15-07-09 @ 18:59
em cu~ng tu. ha`o nu~a ^_^
28-07-09 @ 07:08