[Translation] A White Whale In My Quiet Dream - Chihiro Onitsuka
January 21st, 2011
[Translation] A White Whale In My Quiet Dream - Chihiro Onitsuka
Written by:
miayu
Published on Tháng 1 21st, 2011 @ 18:01:50 , using 329 từ,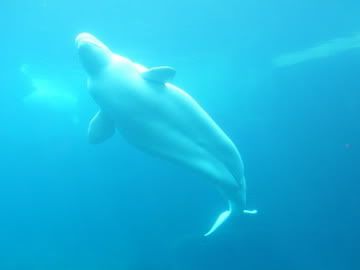 Download: Chihiro Onitsuka - A White Whale In My Quiet Dream
Bài hát mở đầu cho album "DOROTHY" của Chihiro Onitsuka - A WHITE WHALE IN MY QUIET DREAM - 1 intro track khá lạ. Thực sự thì mình ấn tượng với cái title, rồi thấy lyric ngồ ngộ nên dịch cho vui. Trong lúc đi tìm thông tin thì đọc được ở đâu đó Chihiro phổ thơ trước rồi mới soạn nhạc. Nói nhạc chứ trong bài hát này chúng ta chỉ có: tiếng trống nhẹ hoà quyện với chất giọng mạnh mẽ của Chihiro (cũng khá giống kiểu KOKIA đã hát "Dandelion" bản unplugged). Duy nhất 1 điều là việc phát âm tiếng Anh không được chuẩn xác lắm nên cũng hơi khó nghe. Dù sao thì hình ảnh chú cá voi trắng bơi trong biển xanh của bài thơ cũng dễ thương hen? XD
Taken from Chihiro Onitsuka - 「DOROTHY」 album (28 October 2009)
–
A big white whale in my quiet dream.
He flies below the prismatic sea.
Like a snow flake that you saw in your break.
He crawls into a fantastic fear.
Một chú cá voi trắng bự trong giấc mơ tĩnh lặng của tôi
Lướt trong làn nước đại dương xanh màu lấp lánh.
Như bông hoa tuyết rơi mà em đã thấy trong kỳ nghỉ ấy.
Chầm chậm bơi trong nỗi sợ hãi lạ kì.
I'm getting down getting down from fiery scarlet eyes.
But I'm falling down falling down from my violet faith.
A white wale goes just right goes just right.
Tôi chìm dần chìm dần trong đôi mắt đỏ lạnh lùng.
Nhưng cũng đang mất dần mất dần niềm tin kiên định của mình.
Chú cá voi trắng to thật to ấy, cứ bơi cứ bơi lửng lờ…
–
Translate by me - Miayu
Take out with full credits, thanks.
Thanks for reading and giving comments to me. If you found out something wrong, please send me a reply, I really appreciate! Hope you would like my translation ^O^
Chưa có bình luận