30 Days Song Challenge - Day 06
November 5th, 2011
30 Days Song Challenge - Day 06
Written by:
miayu
Published on Tháng 11 5th, 2011 @ 11:15:23 , using 375 từ,
Day 06 - A song that reminds you of somewhere: The Islander - NIGHTWISH
atch?v=x2sd8UMUaIk">Xem online
"The islander" là single thứ 3 trong album "Dark Passion Play" của Nightwish - 1 trong những tình yêu symphonic metal của mình. Khác với những bài nhạc khác, "the islander" mang âm hưởng của dòng nhạc folk, chỉ sử dụng guitar thùng, không dùng guitar điện. Điều đặc biệt hơn, vocal chính là Marco Hietala, còn nữ ca sĩ chính Anette Olzon và các thành viên khác hát đệm.
Cá nhân mình cũng thích music video của bài này, được quay tại vùng Lapland hoang dã của Phần Lan, được đạo diễn bởi Stobe Harju. Trong cái nền xam xám bao phủ bởi sương khói, 1 thủy thủ già cô độc kéo theo 1 con thuyền khinh khí cầu cũ kỹ. Tại nơi dường như tận cùng của thế giới này, vây quanh ông là những bóng ma của quá khứ, cùng với sự dai dẳng của thời gian, chỉ một mình tại nơi hoang đảo này sống cùng với ký ức…
Now his love's a memory, a ghost in the fog
He sets the sails one last time, saying farewell to the world
Anchor to the water, seabed far below
Grass still in his feet, and a smile beneath his brow

This is for long-forgotten, light at the end of the world
Horizon crying, the tears he left behind so long ago

(trích lyric của "The islander")
Lại nhớ đến tác phẩm "The Persistence of Memory" của Salvador Dali. Nhớ lại những ngày trong lớp Humanity của Mr. An, chỉ cảm thấy thế giới sao mênh mông, vũ trụ thật rộng lớn nhưng mỗi 1 cá thể như 1 vì sao trên bầu trời, như 1 hạt cát trong sa mạc, cuối cùng cũng chỉ là cô độc.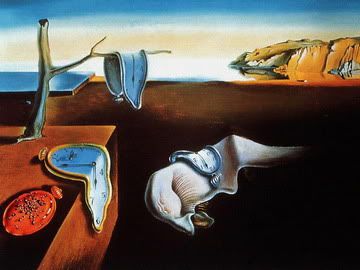 "The Persistence of Memory" by Salvador Dali
Ngẫu hứng Media Player của mình random phát nên bản nhạc này, mình chộp luôn làm challenge song kì này. Các đây mấy bữa trước cũng đọc được từ Facebook, câu hỏi: "Ở cùng với sao nào thì dễ phát điên nhất?" Hạng 1: "Song Ngư với bất kỳ sao nào trong 12 chòm sao." Nghe thiệt là đau lòng, không lẽ số phận mình là phải ra đảo làm Robinson sao? XD
Chưa có bình luận