30 Days Song Challenge - Day 07
November 7th, 2011
30 Days Song Challenge - Day 07
Written by:
miayu
Published on Tháng 11 7th, 2011 @ 01:48:03 , using 325 từ,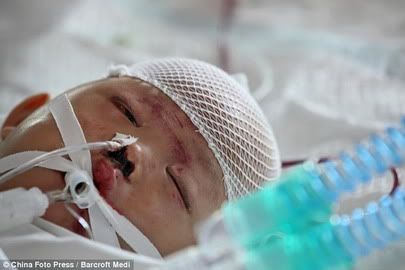 Day 07 - A song that reminds you of a certain event: Mad World - Gary Jules
atch?v=4N3N1MlvVc4″>Xem online
"Mad World" ra đời năm 1982 bởi Tears for Fears, 1 ban nhạc của Anh. Năm 2001, nó được Michael Andrews và Gary Jules cover lại trong film kinh dị "Donnie Darko". Sau này, á quân của America Idol, Adam Lambert đã hát bản cover của Andrews/Jules trong season 8 của cuộc thi.
Mình thích nhất bản "Mad World" của Andrews/Jules hơn là bản nguyên gốc của Tears for Fears. Có lẽ vì nó được chơi với 1 tông chậm hơn, với sự hòa quyện của piano, cello và chất giọng trầm buồn của Gary Jules, không khỏi khiến ta bị ám ảnh, run rẩy và chơi vơi trong sự hỗn độn. Lambert đã hát lại cũng khá, giọng hát có phần mượt mà hơn, nhưng không đem lại nhiều cảm xúc bằng.
Sự kiện hiện tại gì làm mình chọn "Mad World"? Chắc ai có đọc báo, theo dõi tin tức thường xuyên thì cũng biết những vấn nạn suy thoái về đạo đức trong xã hội gần đây: cô bé Wang Yue 2 tuổi bị xe cán 2 lần 18 người qua đường đã thờ ơ trước tai nạn cho đến khi người phụ nữ nhặt rác Chen Xianmei, 57 tuổi, cứu cô bé. Lê Văn Luyện gây vụ thảm sát tại tiệm vàng Ngọc Bích, Bắc Giang. Cha ruột hãm hiếp con gái…
Xã hội suy đồi con người biến chất từ lối sống, bản chất và cả cách đối xử với người khác. Thế giới này điên loạn rồi.
All around me are familiar faces
Worn out places, worn out faces
Bright and early for their daily races
Going nowhere, going nowhere

And their tears are filling up their glasses
No expression, no expression
Hide my head I want to drown my sorrow
No tomorrow, no tomorrow

…When people run in circles,
It's a very, very Mad World…

(Trích "Mad World" lyric)
Chưa có bình luận